Datacenters and Network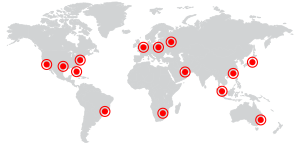 i3D.net owns and operates over 8,250
servers
at six continents around the world: Amsterdam, Rotterdam, London, Frankfurt, Warsaw, Moscow, Dallas, Los Angeles, New York, Washington DC, Miami, São Paulo, Johannesburg, Dubai, Tokyo, Shanghai, Beijing, Hong Kong, Singapore and Sydney. We operate from our own 36,000 ft² data center in the Netherlands. i3D.net operates a
793 Gigabit
transatlantic
network
.
The i3D.net global network provides a scalable platform for a flexible roll-out of our services, allowing us to rapidly increase capacity for
colocation racks
,
dedicated servers
,
cloud instances
and
web hosting
. We are experts in scaling out capacity on a global scale.
Our scalable services are supported by 24x7 support and our software to manage and monitor capacity and performance. i3D.net offers a SLA on scalability, uptime and performance. Our datacenters are ISO/IEC 27001 and CDSA (Content Protection & Security) certified.
More Information
Latest News
i3D.net acquires U.S. hosting company to support future growth
i3D.net, the Performance Hosting provider, announces that its U.S. subsidiary recently acquired all activities, assets and team members of MyInternetServices.com LLC, a U.S. managed hosting provider founded in 2004 and host to game publishers and game developers.i3D.net operates the One Platform, a hosting platform with 25 global locations and our inhouse developed software specially designed for performance critical workloads. i3D.net is proud to serve many of the largest game developers and publishers worldwide, and the targeted acquisition greatly complements our role in the fast-growing game market and strengthens our sustainable competitive market position.Integration of U.S. operationsIn the past weeks, our teams integrated all network...
News Archive
14 Aug 2018

-
Meet the i3D.net team at Gamescom!
14 Aug 2018

-
i3D.net is live in Moscow, Russia, connects...
29 Jun 2018

-
Pure Storage helps i3D.net exceed service...
28 Jun 2018

-
New PoP: Chicago
23 May 2018

-
Data Protection & Security
01 Feb 2018

-
i3D.net multi-cloud game hosting demo
08 Jan 2018

-
Meltdown & Spectre
17 Nov 2017

-
i3D.net connects Africa to online gaming,...