Datacenters and Network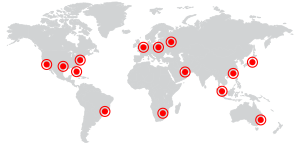 i3D.net owns and operates over 10,500
servers
at six continents around the world: Amsterdam, Rotterdam, London, Frankfurt, Warsaw, Moscow, Dallas, Los Angeles, New York, Washington DC, Miami, São Paulo, Johannesburg, Dubai, Tokyo, Shanghai, Beijing, Hong Kong, Singapore and Sydney. We operate from our own 36,000 ft² data center in the Netherlands. i3D.net operates a
793 Gigabit
transatlantic
network
.
The i3D.net global network provides a scalable platform for a flexible roll-out of our services, allowing us to rapidly increase capacity for
colocation racks
,
dedicated servers
,
cloud instances
and
web hosting
. We are experts in scaling out capacity on a global scale.
Our scalable services are supported by 24x7 support and our software to manage and monitor capacity and performance. i3D.net offers a SLA on scalability, uptime and performance. Our datacenters are ISO/IEC 27001 and CDSA (Content Protection & Security) certified.
More Information
Latest News
i3D.net selects Juniper Networks Software Defined Secure Networks platform
Juniper Networks (NYSE: JNPR), an industry leader in automated, scalable and secure networks, today announced that i3D.net, a Dutch managed-hosting provider with global reach, has chosen Juniper Networks' Software-Defined Secure Networks platform to protect its network against DDoS attacks and other threats while reducing its time to deploy to new datacenters worldwide. i3D.net serves over 31,000 customers on 10,500 i3D.net servers in 22 data center locations worldwide. The company has a broad range of gaming publisher, game developers, system integrators, hosting providers and enterprise customers who require high-performance, secure and flexible networks rapidly increase capacity for new cloud services, dedicated servers...
News Archive
04 May 2017

-
i3D.net introduces the digital 'Holland...
25 Apr 2017

-
DHPA Inspirational session at i3D.net: Circle...
27 Mar 2017

-
i3D.net appoints Emile Schouwstra as Chief...
23 Dec 2016

-
i3D.net Christmas and New Year opening hours
23 Nov 2016

-
i3D.net expands Africa and Middle East server...
16 Jun 2016

-
i3D.net now supports payment with credit...
17 Mar 2016

-
i3D.net opens new Dallas location for cloud,...
10 Mar 2016

-
i3D.net expands IP Transit network to 620...