Datacenters and Network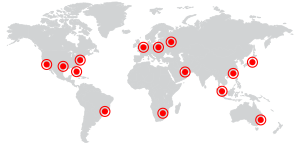 i3D.net owns and operates over 10,500
servers
at six continents around the world: Amsterdam, Rotterdam, London, Frankfurt, Warsaw, Moscow, Dallas, Los Angeles, New York, Washington DC, Miami, São Paulo, Johannesburg, Dubai, Tokyo, Shanghai, Beijing, Hong Kong, Singapore and Sydney. We operate from our own 36,000 ft² data center in the Netherlands. i3D.net operates a
793 Gigabit
transatlantic
network
.
The i3D.net global network provides a scalable platform for a flexible roll-out of our services, allowing us to rapidly increase capacity for
colocation racks
,
dedicated servers
,
cloud instances
and
web hosting
. We are experts in scaling out capacity on a global scale.
Our scalable services are supported by 24x7 support and our software to manage and monitor capacity and performance. i3D.net offers a SLA on scalability, uptime and performance. Our datacenters are ISO/IEC 27001 and CDSA (Content Protection & Security) certified.
More Information
Latest News
i3D.net multi-cloud game hosting demo
i3D.net will be attending Game Developers Conference (GDC) in San Francisco, California. From March 19 until the 23rd our team will be there to meet you in person. We're in South Hall booth #643. Our partners and clients have always seen our software development progress, with new improvements to our game control panel every other month. The biggest improvement, something we demo at GDC, is our One Platform with multi-cloud capabilities. We scale out into AWS, GCP, Azure, AliCloud, on top of the i3D.net One Platform of bare metal servers world wide. A really unique add on is the ability to include your own bare metal infrastructure in our platform, lowering costs, raising utilization of your paid infrastructure.Every server world wide, in one dashboard. Your game...
News Archive
08 Jan 2018

-
Meltdown & Spectre
20 Dec 2017

-
i3D.net Christmas and New Year opening hours
17 Nov 2017

-
i3D.net connects Africa to online gaming,...
18 Oct 2017

-
i3D.net nominated for FD gazellen awards...
03 Aug 2017

-
RFC 8195 - Use of Large BGP Communities
15 Jun 2017

-
i3D.net selects Juniper Networks Software...
04 May 2017

-
i3D.net introduces the digital 'Holland...
25 Apr 2017

-
DHPA Inspirational session at i3D.net: Circle...